The horses went down the steep path; stones poured, there was frost. The Spanish border guard put a stamp on the passports, Marika and Anton went further to the territory of Andorra, to the nearest stop, take the bus back to Spain. Next — the plane from Barcelona. Back down in Karlsruhe in illegal status, artists began to mount a performative installation in a large hall of ZKM museum. A&M hung all their luggage as a load on six strings, connected the wires, adjusted the software.
Anton Kryvulia and Marika Krasina have been in a state of a permanent journey for years. The amount of personal possessions has long been reduced to the required minimum, which could always be rapidly collected and taken as hand luggage on the plane. Now all these things are bounded and suspended on six strings as a weight providing the necessary tension for pulling the sound.

"This burden, the baggage with which we tend to identify ourselves, serves only to strain our personality, which, like a string, produces a particular sound. Having once disassembled the world, we are engaged in redefining and reassembling it in integrity, without losing the sense of being suspended in a whistling draft."
Index of artist's possessions.
ZKM hall in Karlsruhe, January 6, 2018.
004. Three corals of small size
005. Folder a3 (cardboard with textile frame) with the following documents:
     • two notepads a4 "beach volleyball", "floating opera"
     • file "New year's speeches of presidents"
     • drawings for opera installations
     • the manuscript "Catching the bubble"
     • a letter about the tactics of action, invented in Goa in 2014
     • four variants of the artist statement
     • one-page description of the archaeological commission's work
     • sheet a4 from Art Basel with manually recorded dates of upcoming biennial open calls
     • "Abandoned zoo conference", presentation on a4 sheets, black and white
     • "Bubble opera", presentation on 20 sheets of a4, b/w
     • "tools of disclosure conference", two presentations, b/w
     • hand-drawn comics without heroes on a cardboard napkin
     • pink transparent folder a3 with the coolest collages for 4 years, selected especially 
     • "Tools of disclosure" posters a3 31 pieces, b/w
     • "Tools of disclosure" posters а4 2 pieces, b/w
006. 200 flyers "Tools of disclosure" а5
007. Wooden stick for playing on the string
008. A small bag from Bali with wax crayons
009. Scissors from Dresden
011. Pencil case with a zip, uncountable amount of pencils, pens, markers
012. Small round jar of hand cream
015. Kopf entspannung tee
018. "Every day" notebook from Auchan
019. Pink notepad with flamingos
020. Brausetabletten magnesium
021. Two-layer gold cosmetic bag with beads, shells, drops for the nose, and other uncountable treasures
022. Plastic bag with three nuts
026. The bag that daddy once brought for us for Christmas
027. Dark blue threads of the Malina in a plastic bag
028. Ragbag with a package of pasta and one candy "halva" from Moscow
030. Flash yellow aerosol can 400 ml
031. White aerosol can 600 ml
033. 2 umbrellas for cocktails
034. Three leather straps with fasteners
035. Orange Fitness Drink Bottle with nipple
036. Zoom Portable Recorder rented until the end of February
038. Bag on ropes "scout": 2 tomatoes, 1 pepper, 1 carrot
040. HfG chip with 2 keys from the bicycle lock
041. Hip belt with pockets and silver buckles
042. Small silver suitcase with strings and a collection of feathers for calligraphy
044. 6 found books using for the bed: "Pons englisch/deutsch", Otto Flake "Finnische nächte", Istvan Orkeny "Eheleute", Paul Vialar "Madame de Viborne oder die Hetzjagt", Olga Iwinskaja "Lara", Anne Golon "Angelique"
046. Tobacco with an Indian in a brown bag
047. Laptop in a cover made of a wired miniskirt
048. Red computer mouse with one battery, no cap
049. Light blue hard disk
050. Piece of hard plywood on wheels
051. The large piece of plywood with an inscription: "chaos sense delight"
052. Piece of beige soft material
053. Piece of white soft material
056. 1 wood stick with red textile
057. 3 wooden sticks bent, with screws
061. Plastic bag with piezo sensors
062. Clipping from a book with 2 birds and with the hand
063. Written inscription "traces"
064. Small silver backpack with a rocket
065. Pale pink leather boots
068. Red scarf from Pavlovsky Posad
069. Yellow windbreaker with a tiger
071. Brown warm long scarf with gold thread
073. Gloves with deers without two fingers
074. Glued map of Chaos Sense Delight
075. Green hairpin with sparkles
076. Gray notebook for ideas, between a5 and a4
077. Found picture "Portrait of a stranger with glasses"
078. Stone found by the river
081. Solar-powered lantern
082. Orange cardboard box with 13 audio cassettes
084. Augen extra, 30 kapseln
085. USB flashlight "cosmonaut"
086. Book Henri Bergson "Creative evolution"
087. Russian/English soviet mini dictionary
088. Englisch/deutsch mini dictionary "Langenscheidt"
090. Notepad "Maria" with Italian expressions
091. Notepad with panda with Spanish expressions
092. Set of plasters "Second skin"
093. Pink notebook with smelling pages
099. Essential oil pinus sylvestris
100. Balm "Vitaon" for the nose
102. Gold lipstick glitter
107. 3d white cardboard snowflake
109. Anton's small black stone with interspersed
110. Blue tin can with corals, cross, jack
111. Chinese robe with dragon embroidery
112. 2 toothbrushes pink and green
113. 2 press badges for Marika and for Anton
114. Silver chain with a round pendant, it has a cannabis leaf
116. Gray summer trousers
117. 2 pairs of pants from a Japanese pajama store
118. Gray handbag with two passports
119. White pantyhose 20 den
120. Knitted hat, a gift from the mother
123. Purse on a magnet with a kangaroo
124. Earring with a bird made of ceramics
125. Necklace from Istanbul
126. Two nylon brushes, dimensions 4, 12
129. 23 different color socks
130. Pigment liner, 0.4, black
To view the World as the oneness, turned explicitly to you and including you, is to view the World as a total mediatory. Total mediatory is the oneness reflected by us in things. We endow things with unity picked out from our being. So in things, we recognize ourselves. Things can become the content of other things by demonstrating Media Nesting (that removes the contradictions of the media reduction in art theory).
There was nowhere to sit. We were standing, pizza falling in shreds through our fingers into the darkness on the dirty pavement. In the morning, fishers woke us up at the pier. That night we found a beautiful wallet on the boardwalk. There was enough money in it to buy tickets for the ferry to Palermo. All the things we had buried in a field near Mozhaisk even earlier.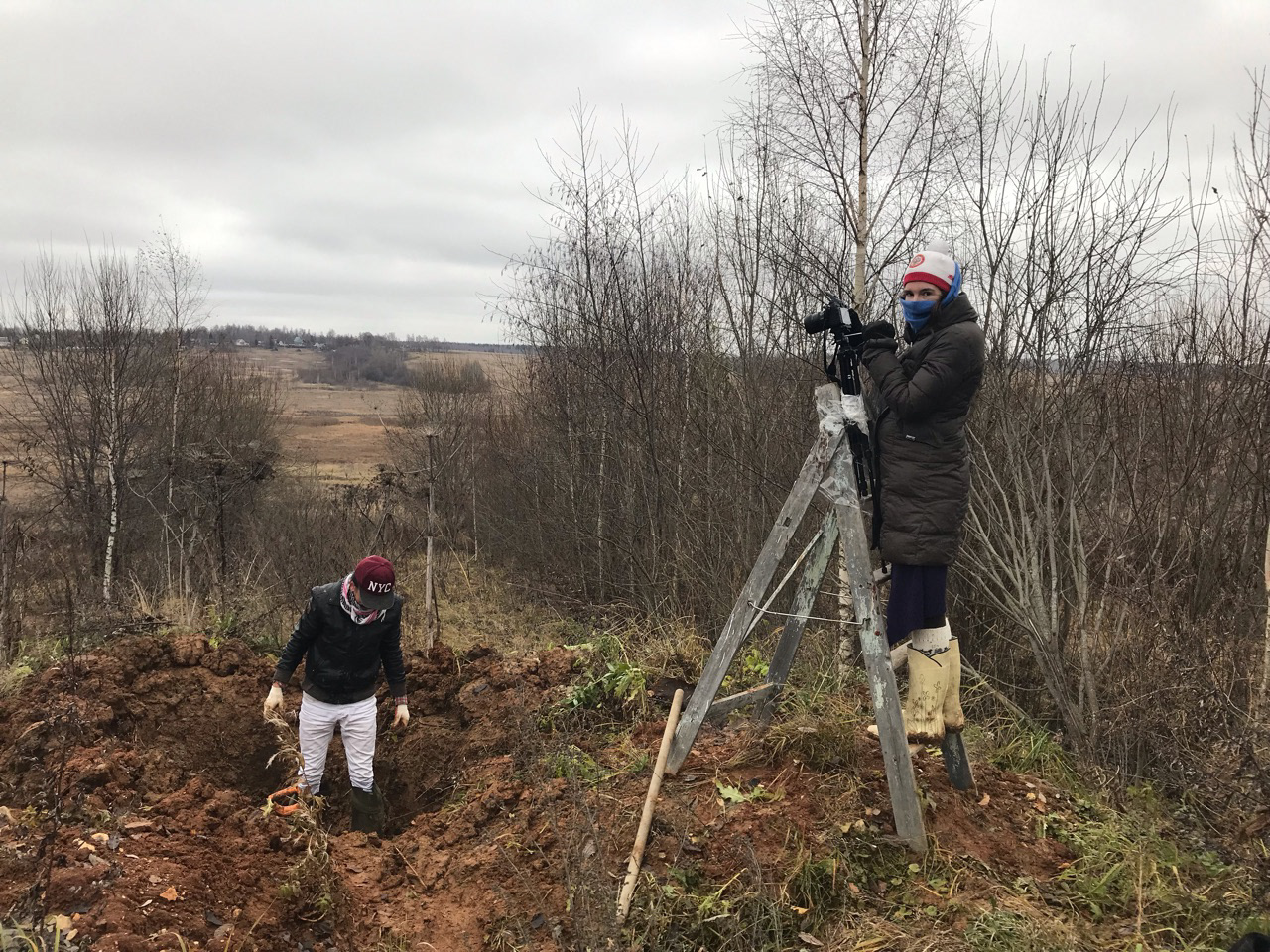 Where to store things? It's a problem, namely, an artistic one: Marika and Anton try not to produce art objects precisely because they have no place to store them. Leaving Moscow in the fall of 2018, Marika Krasina and Anton Kryvulia had buried their personal belongings (that could no fit in the plane) in a field at the Moscow River source. After six months, they dug them up and mounted them as a weight for the strings' tension.

Among them were notebooks, graphics, musical instruments, and all the paintings. For six months in the ground, things have ceased to be what they were before. Water, temperature drops, bacteria, and other factors turned them into the soil so successfully that artists had to throw everything away after the show except few paintings covered with the perfect german Gesso.